The first golfing president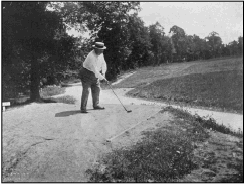 President Taft - on the Tee
The first president of the U.S. to openly admit playing golf, from the great state of Ohio, was President William Howard Taft, the 27th President of the United States.
We say the first to admit because it is suspected that President Theodore Roosevelt may have also played golf, but like other politicians of the day, decided to keep his golfing private, as at the time, it was considered a game for the rich only. Golf became an obsession with with President Taft who although played to a 20 handicap, was known to regularly shoot below 90.
President Taft, unlike Teddy Roosevelt, not only instructed his campaign people not to keep it private, but actually participated in golfing exhibitions. He played rounds with both good and bad, covered by the press, including American Golfer. He even partnered with Mr. Alan Lard in a match against American Golfer editor and former U.S. amateur champion Walter Travis teamed with Vice President James S. Sherman.

In another high profile match President Taft partnered with Mr. Walter Travis against Presidential aide Captain Archie Butt and Brigadier General Clarence R Edwards.

He also openly celebrated the completion of the Connecticut Avenue bridge which allowed for a quick and direct route to the Chevy Chase Country Club from the White House for afternoon rounds of golf.

President Taft once played in a public round of golf at the Kebo Valley Golf Club in Bar Harbor, Maine, where he may have even established a course record of sorts at the 17th hole known as the Elbow hole, by taking a smooth 27 on the hole.

How many of you, let alone how many presidents, would have the gumption to do that, period, let alone in the public eye ?
"President Taft may not be the greatest President of the United States has ever had, he may not become a third termer or even a second termer, but nothing can rob him of the distinction of being the first President of the Untied States who played golf" Mr. Henry Leach London Evening News November 1912

After President Taft completed his term of office, he served as honorary chairman of the 1913 U.S. Open played at Brookline Country Club, and not only witnessed parts of Francis Ouimet's stunning Open victory, but was instrumental in it being used to further catapult the great game of golf into the American public consciousness.
The American Golfer
August 1911
President Taft says: "My advice to the middle-aged and older men, who have never played golf, is to take it up. It will be a rest and recreation from business cares, out of which they will get an immense amount of pleasure, and at the same time increase their physical vigor and capacity for work, as well as improve their health. This applies particularly to the government clerks, and I sincerely hope that the proposed public golf course will soon be opened, and that men and women of sedentary habits here will be enabled to get this splendid form of exercise."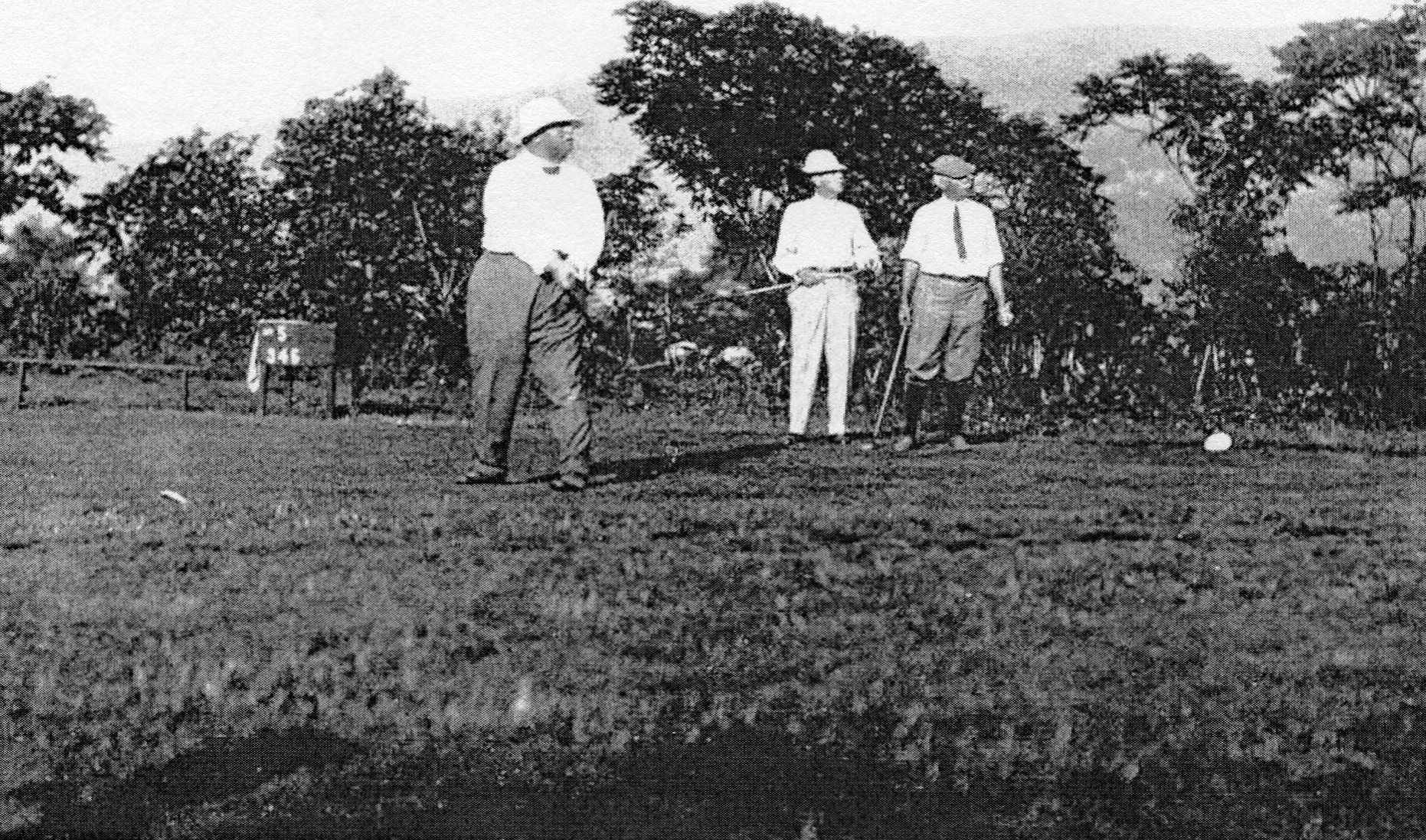 President Taft playing a friendly 4-ball match in
Manchester Vermont. Note the "tee box" in the back ground.


The American Golfer
April 1913
On PUBLIC GOLF

Ex-President Taft has gone on record strongly in favor of golf, his favorite recreation, when he embodied his views in a recent letter to the Chamber of Commerce approving the establishment of a public golf links in the parks of Washington, D. C. "You know my tendency to golf, my sympathy with anybody who wants to play it, and my desire to spread a love for the game whenever I can. Golf is a splendid recreation which can be enjoyed with profit by the young and the old. It is in the interest of good health and good manners. It promotes self-restraint, and, as one of its devotees has well said, affords a chance to play the man and act the gentleman. It is the game of all classes, not a mere plaything for faddists, nor, as many suppose, a game for the rich man only. FAVORS FREER USE OF PARKS. "I favor a freer use of public parks by the people than we have had in the past. They should be available for tennis, baseball, skating, golf, and like games, under reasonable restrictions. Golf is the least injurious of outdoor games to the landscape features of our public parks. "I think all our parks should be opened for golf unless there is some specific objection in public needs. The use to which they are put should not be confined to driveways, which are a boon to those who own carriages and motors, but should include healthgiving games for the enjoyment of those who cannot afford to develop country clubs."
The next President to help raise the golfing consciousness of the American public was President Warren Harding with his presenting the US Open trophy to 1921 US Open champion Jim Barnes at Columbia Country Club, Chevy Chase, Maryland.

Other presidents who have had open love affairs with the great game of golf include, Franklin Delano Roosevelt, a superb golfer was Club champion at Campobello Golf Club, Campobello Island New Brunswick before being stricken with polio. President Dwight D. Eisenhower, " A lot more people beat when I left the White House."; John F. Kennedy, known more for his sailing was a low handicap golfer who many say played with a relaxed and confident manner matched only by the best in the game; President Gerald Ford was an avid golfer, in the President Taft vein, often seen playing in such public venues as the Bing Crosby Pebble Beach Pro-AM, and the Bob Hope Desert Classic.

Both Presidents Bush as well as President Clinton also supported respectable golfing handicaps in the teens.
To learn more about our golfing Presidents , continue your search here....