| | | |
| --- | --- | --- |
| | Hole #11 The Golf Caddie | |
Golf caddies in summer caddie camp at
Maplewood, N. H. during the summer of 1913.

The picture shows a good number of caddies were needed at typical golf resorts.
Notice the woman in the middle of the picture, not sure of her role but a guess
is she was there to keep them well fed, healthy and perhaps well behaved.
The golf caddie is part pack mule, golf ball finder, golf ball retriever, doctor, servant, garbage man, golf psychiatrist, sports analyst, bodyguard, nursemaid, golf club cleaner, golf ball washer, green keeper, golf course guide, navigator, surgeon, seamstress, enemy, and friend. A GPS system, golf course ranger, golf course security guard, whipping post and sometimes spouse. Any other questions as why a golf caddie may sometimes also be a drunkard ? This hole is still under construction is going to be one of our favorites to build and one of your favorites to read. To make sure you are kept abreast to our progress you may wish to subscribe to our "Balls in the Air" e-letter.
Caddies' misappropriating golf balls
What do you think the caddie said ?
You can't decorate your caddie but you can your golf cart,
Golf Cart Decorating Ideas
Francis Ouimet Scholarship Fund Caddie Guide
Caddies Welcome Home the Champ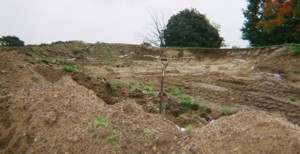 When this massive bunker is complete you'll appreciate your
caddie guiding you around this little bit of golfing hell.