President Kennedy, considered the best of our Presidential golfers sported a 7 handicap at the peek of his golfing career. Known for his ability to pull off some miraculous recovery shots President Kennedy earned a the reputation of a strong competitor early in his golfing career leading Harvard past Yale in a heavily contested collegiate golf match.

When playing golf with his father and brothers JFK preferred playing at Hyannisport Golf Club and Palm Beach Golf Club. As a US Senator and President he was certainly no stranger to Burning Tree Club and Chevy Chase Clubs in Maryland.
The 1939 Magnolia Cup Trophy from the Nice Golf Club won by John F Kennedy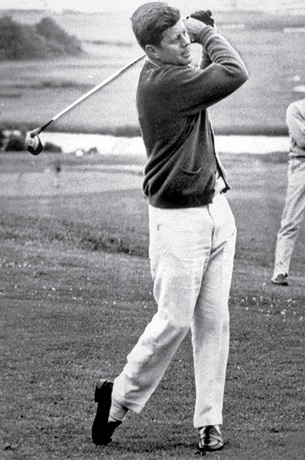 JFK showing his Presidential
form on the 1st Tee at
The Palm Beach Golf Club.
Note the penny loafers.
President Kennedy's MacGregor
golf clubs, note the monogram
on the golf bag, simply
JFK, Washington DC