The 1st motorized golf cart is attributed to Robert "Dick" Jackson,
he named it the Arthritis Special Golf Buggy.
Golf Carts and Golf Cart Decorating Ideas
When the E-Z-GO company was started on June 13th 1954 in a garage in Augusta Georgia by two brothers, Billy and Beverly "Bev" Dolan I am pretty sure they had no idea where the golf cart business was going. I think the same might apply to the early Club Car developers.

Yes they may have had visions of the varied uses like utility carts maybe even the the passenger transporters and I doubt that even golf cart pioneer Bobby Thomas could have envisioned the golf cart market of today.

Truthfully the golf cart decorating ideas that are now proliferating today just simply could not have been imagined 40, 30 or even 20 years ago. Quite frankly we suspect it was The Villages in Sumter County, Florida and its explosive growth that triggered the wide range golf cart decorating of today.
The following is a gallery of photos that give a peek at the many golf cart decoration ideas that abound today, as well as some of the variety of golf cart uses.
Segway golf carts, wait until you see some of the decorating ideas people will come up with for these beauties. We at the golfballfactory.com think that these may be the golf cart of the future as they are fun and fast.

With these tires they do minimal damage to the golf course, their maneuverability will allow them to be brought many places an conventional golf cart can not go and the fact they take only one golfer, which means after each shot everyone goes their own way should speed up play.


Above is a golf cart decorating idea for the Flintstone fan
Below is a golf cart decorating idea
for the Disney or Minnie Mouse fan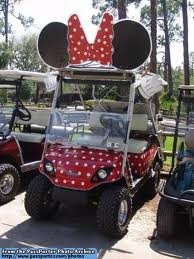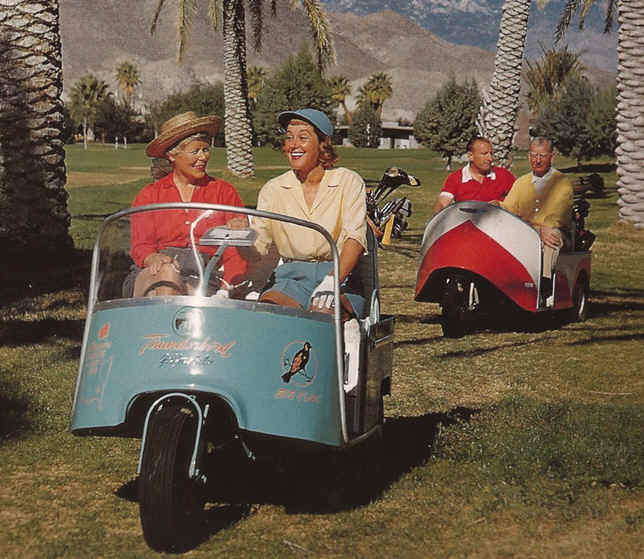 Above is an example of early golf cart decorating,
our guess is it is something out of the early Bobby Thomas era.
Below is an example of early golf cart decorating, the Bob Hope Golf Cart
our guess is it is still one of the best and original ever made.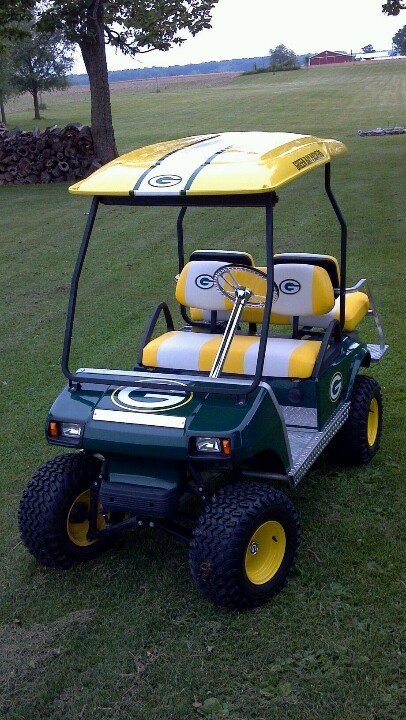 An easy way to go about golf cart decorating
is to use the team colors theme, an example
being the Green Bay Packers golf cart shown here.
Of course once you have your cart all supped up you've got to maintain it......