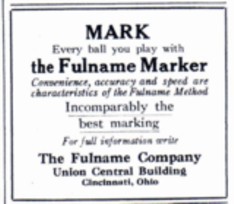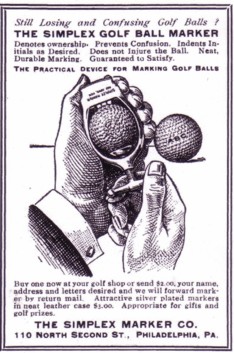 Considering the number of advertisements for golf ball markers that were run in golfing magazines in the early 1900's, I suspect some thought this to be a major problem. Golf Ball Markers or imprinters today although available, are more of a gift item for the golfer that has everything.

The Board of Governors for Stanton Heights Golf Club of Pittsburgh have decided in view of the great amount of trouble which the club has experienced through the caddies' misappropriating balls owing to the policy of a certain manufacturer accepting second-hand balls from the caddies, the Board of Governors decided to install a system of marking very much in vogue in England.
To that end an Omnes Marker has been ordered from the manufacturer in England and every member of the club will be assigned a registered number and all balls he purchases will be stamped with that number. The presence of this mark on the ball will make identification easy and is expected to do away with the unfortunate practice of boys offering balls for sale or for refund to the manufacturer.