As Chicago Golf Club prepares for the arrival of
United States Golf Association Amateur Championship,
Club professional Dave Foulis proclaims the "very best of condition"
American Golfer September 1912


Barring such accidents as befell the Denver course just before the start of the Western, the Chicago course should be in the very best of condition for the tournament. Professional Dave Foulis has had a corps of assistants at work on the course constantly, not only building up, but keeping up and nursing it. It is felt now that the arrangement of the course could not be improved upon and the only thing Foulis has to do is to keep the condition of the ground and grass from slipping back. As he has almost unlimited resources with which to work, there is no reason why the course should not rank with any in the country when the tournament is started.
Now let me see is there any other way we could put a little more pressure on the green keeping crew ?
.........Nope don't think so.
Here is what British golf writer Henry "Americans suck at golf" Leach thought of the conditions as reported in American Golfer magazine. "Thanks to the energy, ability and discernment of David Foulis, the greenkeeper, it was in good condition, despite the excessive heat, as it possibly be got to. I do not think I have ever seen better putting greens on an inland course, and their quality astonished me....."



The photo on the left shows the 1st green (notice the cross cutting pattern) of the Chicago Golf Club during the
1912 US Amateur with Mr. Jerome Travis putting. The photo on the right shows Mr. Heinrich Schmidt
putting on the 2nd green with the great Mr. Chick Evans looking on.
The picture below is off the ninth green, one of C.B. MacDonald's best.
Mr. Jerome Travers is putting and Mr. Chick Evans if watching. It is the
final round for the 1912 US Amateur Championship won bt Mr. Travers.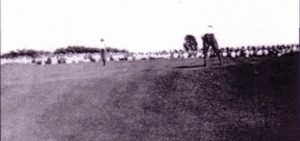 Pictured above are photos of some vintage ads for golf course equipment and supplies that may have been
used by Dave Foulis and his crew in preparing the Chicago Golf Club for the 1912 US Amateur Golf Championship.


Want to learn more about golf course conditioning, continue your search here.....