"The Cauldron"
A short par 3 at Stan Thompson's Banff Springs Golf Course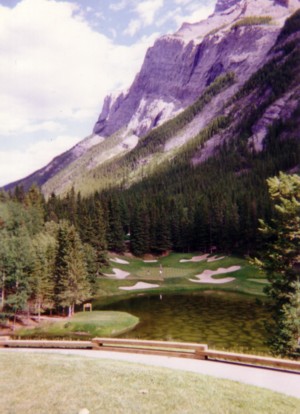 A golfers nightmare, "The Cauldron", a short par 3 at Stan Thompson's Banff Springs Golf Course. Although "The Cauldron" itself is intimidating, especially on a cool morning when the steam rises out of the hot springs pool, and the 6 gaping bunkers that keep your eyes darting about while you are trying to focus on your target the ever shrinking green are distracting, the most difficult aspect of the hole to fathom is the correct distance. This photo was taken 150 yards from the center of the green. One of my playing partners decided the marker had to be incorrect and launched a well struck 3 wood into the towering pines behind the green complex with the ball still climbing when it reached the tree line. He did "recover" to make a nice triple bogey six.
Here is an interesting quote from Steven Young the director of golf at Banff Springs resort (June 2010) on the facility's practice of yielding the right of way to wild animals that wander onto the resorts golf courses, even if it means closing holes to play. "We don't just tolerate these interruptions, we celebrate them. If someone comes off the course angry here, they've missed the point of the experience."