The First Open Championship




The first Open Championship was played October 17, 1860 at Prestwick Golf Club, the brain child of James Ogilive Fairlie and the ever flamboyant Earl of Eglinton. On the surface its purpose was to find "the world's best professional golfer". (Now let me see in a world where professional golfers are called "cracks", described by the great golfing amateur Horace Hutchison, as "a feckless, reckless creature...His sole loves are golf and whisky". No I don't think so, let's peel back another layer.)

Looking a little closer you find that may not be the whole truth. You see in the mid 1800's the railway was changing everything so fast that like so much history making the convoluted connections seems also most surreal. In this little story the first thing to consider is that the railway gave Londoner's as well so many others in England and Scotland access to many of the beautiful Scottish shore villages and the town Prestwick being one of them. It seems the railway also provided Lord Eglinton not only access to Prestwick but to some links land he owned between Prestwick Cross and the North Atlantic. (Lord Eglinton had an estate just 3 miles south of Prestwick and some how managed to arrange for the train to stop for him whenever he needed transportation to Prestwick. One can only imagine how those details were worked out.)
Anyway, with the gutta percha golf ball bringing the game within the financial reach of so many new players and the trains bringing golf hungry tourists in search of a "Scottish Holiday" to the Rail Station situated between Prestwick Cross and Eglinton's links land the good Earl found himself smack dab in the middle of a potentially profitable venture. Somewhere along the way he and his friend Fairlie put together a band of 50 or so business men and founded the Prestwick Golf Club whose meetings were held at the Red Lion Inn which happens to be on the other side of the rail station. So here we have a golf club, a train station, a hotel and links land on the west coast of Scotland. Sounds like a spot ripe for a golf course don't you think.
By coincidence in 1851 Fairlie became Captain of the Royal and Ancients in St. Andrews and low and behold he learned that Tom Morris, as a result of a dispute with "The Lord of Links" Alan Robertson, was available and would be just the man to build Prestwick's golf course. In what appeared to be no time at all Tom had laid out a twelve hole golf course through the Earl's links land taking full advantage of the land's shape and stunning views.

At once Prestwick found itself near but not quite the epic center of Scotland's golf world with some huge money matches bringing in visitors by the droves. Yet in spite of it's new and rapidly growing fame it was still playing "2nd fiddle" to The Royal and Ancients at St. Andrews. But the untimely death of Alan Robertson would create an opportunity that Lord Eglinton and his good friend Fairlie would find irresistible. Having successfully run since 1857, the Grand National Interclub tournament for amateur golfers the Earl and Fairlie were certain that a tournament of "cracks" would have Prestwick replacing St. Andrews as golf's center and Tom Morris would become the "King of Clubs"



James Ogilive Fairlie



The pencil sketch of the Open Championship Belt
made by James and Walter Marshall,
Edinburgh's finest Jewelers and Silversmiths



Lord Eglinton always wanting to be in the brightest of lime lights commissioned James and Walter Marshall, at the time considered Edinburgh's top Jewelers and Silversmiths, to make a trophy belt and buckle that would be "the finest thing ever competed for." Made of Exotic Red Moroccan Leather and accented with magnificent silver plates showing among other scenes the Burgh of Prestwick's coat of arms and a lavish, filigreed silver buckle featuring a golfer teeing off. Now either the Marshall's knew nothing about golf or simply made a blunder that will forever linger, the golfer teeing off on the buckle has no club.

At some point Lord Eglinton and Fairlie figured out that filling the town with drunken, uncouth cracks might create a problem for the gentried locals, so it was decided that any crack coming to play would come with a recommendation from his club's secretary. They then printed up invitations to neighboring club's for their members to attend. A good number thought that the Prestwick Golf Club members had lost their collective mind, allowing their course and town to be over run by cracks. Eventually a local newspaper came up with the more dignified name of "Golfing Celebrities".

As tournament day approached and the practice rounds began, it became more and more apparent to the Prestwick members and their wives that these drunken and cursing caddies were very much unlike their own Tom Morris. Worse yet than their vile manners, they had rags for clothes that were just plain offensive to look at. In a last ditch effort to at least improve their appearance Fairlie hit up the Earl for some of the Black and Green laborers jackets worn by the men on his estates and made them mandatory attire for all the pro's playing in the tournament.

So tournament day finally rolls around, the "cracks" are ready, Tom Morris who had been given the honor, is about to make the first swing of the first "Open", as Lord Eglinton and his partner Fairlie had hoped and worked for, thousands of spectators were arriving at the Prestwick rail station to watch the celebrity golfers, take in the beauty of Prestwick and spend money. Prestwick Golf Club would go on to host 24 Open Championships before 1925 making it one of the golfing world's historical centers and one of Scotland's favorite holiday destinations.
Oh yes the tournament itself turned out to be a rousing success. Scotland's best "celebrity golfers", clad in their Black and Green Tartan jackets roaming the links looking like a herd of "lumber jacks in search of a tree to cut down," while putting on a golfing exhibit the likes of which had never been performed before. Frantic betting to the extreme with each "crack" lead by eventual winner Willie Park taking side bets as fast they would come their way and the spectators running wildly through the links following their bets, stumping through bunkers and over greens with no regard for anything except how their wager stood.
By the time the third round about the 12 hole course started the tournament had come down to two. Tom Morris and Willie Park. (It is interesting to note that 9 out of the first ten years the Open was played it was won by someone named Morris or Park.)

Now what happened over the next 12 holes has lead to much conjecture. "Frequenters of the Links will admit that in all their experience of (watching) Morris they never saw him come to grief so often."

Repeatedly finding his ball bunkered in one of Prestwick's nightmares some began to suspect his troubles were the devil's work, as by the final round wagering had reached such a frenzied state that he need not look to far for some one to perform his foot work if you will. But somehow Tom kept escaping unscathed, making his 4's and 5's slowly closing Park's 3 stroke lead.


One of Prestwick's nightmares
When Park reached the final green he had left himself 30 feet rambling to the hole. He needed to get down in 2 to claim the championship which on the bumpy greens of 1860 Prestwick was no easy task and a 3 putt leading to a playoff more likely than not. With the crowd bearing in, the 27 year old Willie did what he did best, drained the putt center cut, no doubt from the time it left his club face. His stunning stroke left the crowd both cheering and gasping depending on where their money lay.
Willie Park Sr. would go on to win 4 Open Championships all at Prestwick.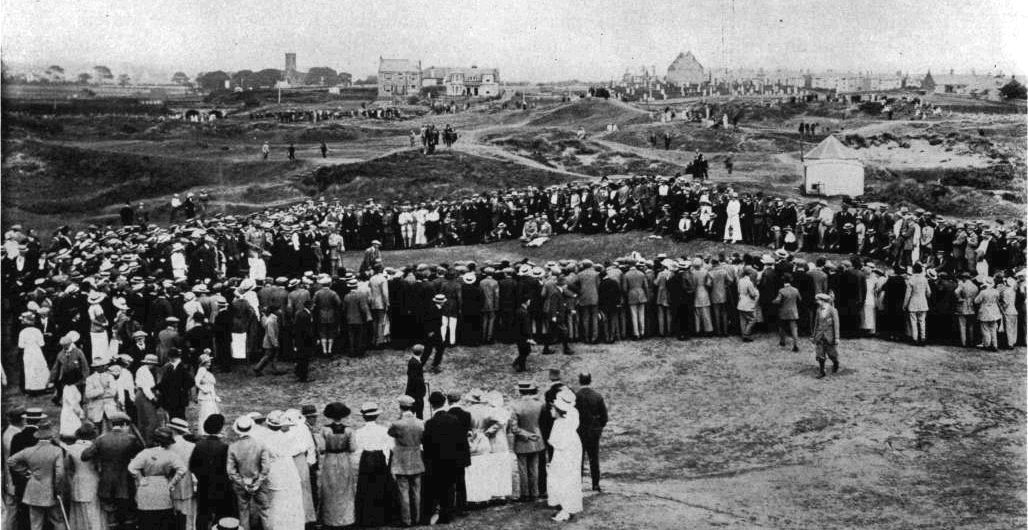 Crowding the green at Prestwick

To learn more about The Open Championship, continue your search here....