His 1934 tournament victories were the St. Petersburg Open, Florida West Coast Open, Tournament of the Gardens Open, Cavalier Open, Metropolitan Open and the PGA championship at Buffalo's Park Country Club. The Metropolitan Open at the time was considered a major.

Runyan would go on to win a total of 29 times on the PGA Tour including the 1935 North & South and the 1938 PGA at Pennsylvania's famed Shawnee Country Club.

Besides being a strong and relentless competitive golfer, Paul Runyan became a golf instructor of renown holding positions throughout the United States at the most prestigious of golf clubs.

He was still giving golf lessons in Palm Springs California when be passed away at the age of 93.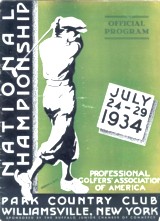 The Official Program for the 1934 PGA Championship.