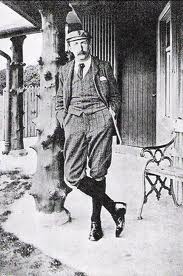 British Golf writer
Henry Leach
The American Golfer November 1912
The peregrinations of Mr. Henry Leach, the noted English writer on golfing subjects, who had undertaken to give in this issue an exclusive article on his impressions of golf in this country, have been of a far more extensive nature than originally contemplated. So much so that it has been found impracticable to prepare the paper in time. All the better, for it will be the more comprehensive by reason of a broader view-point. It will appear in the December number.
The American Golfer December 1912
"Therefore if I say we are better, or to put in another way, that we have far more good first class players than you (America) have."
"And this leads me to say that I think the game of your (America's) best men (golfer's) is no so complete as that of ours, and your general all around accomplishments are not so good."
And on our golf course architecture he selects National Golf Links on Long Island as his target and quotes a British Golf Course expert "The attempt at reproducing well known holes with hopelessly different materials is the most futile nonsense of the lot."
I'm not sure but I think in today's terms, these comments mean "You Suck !"