Francis rips a drive !
September 19, 1913 11:00am Francis Ouimet tees off and rips his drive 240 yards, dead center of the fairway. The gallery explodes sending its signal to 246 Clyde St. that Francis has started. Mary, Francis's mother drops what she is doing and goes to sit on the front porch facing the golf course Rosary beads in hand.
".....rips his drive 240 yards, dead center of the fairway." Doesn't sound like much in this day and age so let's take a closer look. All golf clubs at the time were hickory shafted as steel shaft clubs were not legal for USGA play until 1924. (Graphite and Boron shafts not even a blip on the radar screen.) Keep it in mind while you are pondering this Francis Ouimet's clubs were probably not state of the art even for the time. Remember he was an amateur from a working class family and just like today top of the line golf equipment was expensive. Now about the ball, how do you think it compared with today's high performance marvels from Titleist. Silly as it may seem there were no peg tees made then (yet to be invented) so the ball was placed on a small pile of wet sand to "tee it up". The last thing to consider is it had been raining heavily since 2 am and the fairways had to be soft, result "you got what you hit". No big bounces, no extra roll. 240 down the middle, 1st tee, U.S. Open last day...chasing the top 2 golfers in the world.....this was big, very big.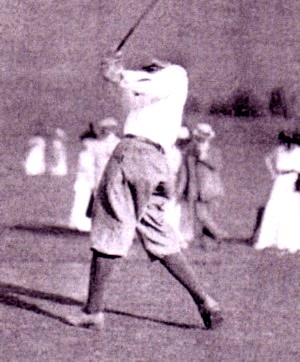 This action photo of Francis Ouimet hitting a driver
shows just how graceful and powerful his golf swing was.
Note the head and hands positions and his straight as a board left side.